This is a recyled post from last year but it's worth posting again - especially if you are planning a get-together for the 4th. Happy Independence Day!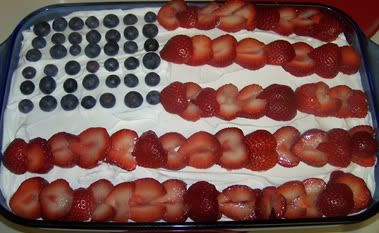 1 bx. white cake mix (or the ingredients to make a white cake from scratch)
1 (3 oz.) bx. red jello
1 (8 oz.) carton Cool Whip topping
9 x 13 baking dish
Bake cake according to package directions. While cake is cooling in its pan, poke holes all over with large fork. Mix jello according to package directions. Drizzle jello liquid over cake. Make sure jello penetrates all holes. Chill several hours or overnight. Frost chilled cake with whipped topping. Then decorate with fresh blueberries and strawberry slices. It makes a very light & cool summer treat. Serve with a side of fireworks.