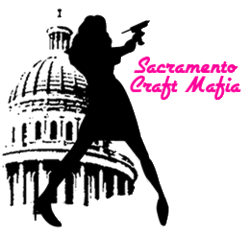 Exciting news! The Sacramento Craft Mafia web site has launched. We are officially official! The Sacramento Craft Mafia is an organization of indie business owners who have come together to promote, support and encourage each other and put Sacramento on the map as the capital of Crafts.
A little history:
The first
Craft Mafia
was founded in 2003 by nine crafty buisness women in
Austin, TX
. The group originally came together through a shared love for craft, DIY ethics and mutual respect. As the Craft Mafia developed it became a forum for networking, promotion and shared ideas. Since it's development in Austin, other Mafias have popped up accross the globe.
This is a wonderful group of talented, creative, and very funny women. I am so lucky to have found all of them!
www.sacramentocraftmafia.com
Check it out! Some of our members are participating in the following upcoming events:
Saturday, March 10, 2007, 3-10pm
SELLOUT BUYOUT at
Fools Foundation
Gallery,
1025 19th Street, Midtown Sacramento. See
www.selloutbuyout.com
for details.
Download the flyer

Saturday, March 17, 2007, 8pm (doors open at 7pm)
The Sacred City Derby Girls' First Bout
Roller King in Roseville
Come by to see the bout and buy some cool indie-wares.
Tickets are $10 in advance, $12 at the door *Children under 6 are FREE
BUY TIX NOW
Download the flyer

* Peptogirl Industries will have a booth at this event!