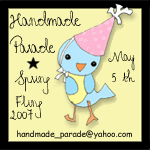 Save the date for Handmade Parade!
When: Saturday, May 5th, 2007
Where: Claire's Backyard
Who:
Missy
,
Claire
,
Peptogirl
, and more to come!
What: Come and enjoy the spring day and shop for some fun, retro and vintage inspired handmade crafts!
Do you live near the Sacramento area, and need more information on the show times and location? Please email
handmade_parade@yahoo.com
with your address, and we will send you our postcard invitation!
Are you a local crafter with a vintage flair, and you would like to participate in the show?
handmade_parade@yahoo.com
with a link to you website or etsy so we can see what you make!