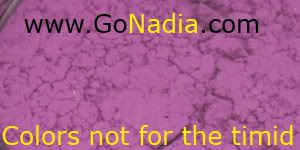 What's better than free stuff? How about free eye-shadow?! I just received 6 free eye-shadows from
GoNadia.com
as a thank you for helping to advertise on my MySpace page. Nadia boasts that her eyeshadows are thick and rich with amazing lastablity. And I can tell you after trying them that she's right!
My favorite thing about Nadia's line of eye shadows are the amazing color choices. You won't see these colors at your neighborhood department store. And the quality is definitely comparable to the other high-end shadows I've tried, plus Nadia's shadows are way cheaper than those other brands.
My 6 color choices: #1 Diamond Shine, #11 Hellfire, #25 24K, #27 Vamp, #10 Cotton Candy, and #18 Ultimate Pink (Pictured Below).