Hey guys and gals! It's the moment you've all been waiting for...a Peptogirl exclusive interview with self-proclaimed crafty gRRRL, Vickie Howell!

Just in case you've missed my previous posts (you may want to check those out, btw) I'm going to give you some quick background info on Vickie:

Vickie has written 2 knitting books (New Knits on the Block - and just released - Not Another Teen Knitting Book). She also writes a monthly column for Knit.1 Magazine. She is the host of the DIY Network's Knitty Gritty and co-host of DIY's Stylelicious. She has founded two successful chapters of Stitch n' Bitch in Los Angeles, CA and Austin Texas. On top of that, she's a co-founder of the Austin Craft Mafia, an organization whose sole purpose is to promote and support independent, female-run, craft based businesses. Oh yeah - and she's the mom of two boys! Talk about super-woman!

I was totally stoked when I was asked to participate in the blog tour for Not Another Teen Knitting Book (Buy It! It's Awsome!) and even more stoked when I found out that I would be interviewing Vickie, via email. I did tons of research before writing out my questions. I didn't want to ask the same things she's been asked a million times before and I was hoping to find out even more about the real Vickie. In the process, I have MAY have come off sounding like a bit like a stalker. LOL. Oh well, Vickie may have a restraining order against me now, but I did get a pretty sweet interview. Take a look!

Me: First of all, I would like to say that it is an honor to be given the opportunity to interview you on my blog, Handmade & Home-baked (http://www.peptogirl.blogspot.com/)! You are an inspiration to all and are helping to pave the way for future crafters. I can't think of a better role model for today's youth than a crafty-celebrity!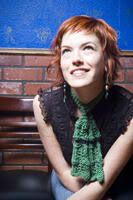 Vickie: Wow, that's really kind of you to say. I really appreciate it!

Me: That said I have a few (or several) questions to ask:

Me: You are the host and co-host of two of the DIY Network's popular TV shows (Knitty Gritty and Stylelicious), you have 2 knitting books out plus a crochet book on the way, plus you write a monthly column for Knit.1 Magazine. Then you still manage to make time for the Austin Craft Mafia AND you're a mother of two boys! A lot of women crafters (me included) have trouble trying to juggle just half of that. Do you have any advice for us on how to manage our time? How do you do it?

Vickie: Well, I don't always manage to do it well. I sometimes feel like I'm in a constant state of running-lateness. Definitely though, the only way I even semi-pull it off is with the support of my family & friends. I work a lot from my friend Jenny's house while our boys play together—having her around is a huge help. I think the best advice though, comes from my best friend Tammy who always says, "Don't worry it'll all get done in the end." She's usually right. The key is to prioritize and learn how to say "no" to new projects when your plate is full.

Me: In an interview that you did on the Knit and Tonic blog (http://knitandtonic.typepad.com/
knitandtonic/2005/12/guest_blog.html), I read that you prefer to dive into a project rather than follow formalities, which sometimes gets you into trouble (me too). Can you tell us about a specific crafty disaster?

Vickie: Oh, these happen to me a lot. I always think I'm saving time cutting out planning steps (and sometimes, I am) but often, I just end up making more work for myself. Just a couple of weeks ago in fact, I didn't take the time to take my own measurements before I dove into making this great One-Skein Wonder Shrug. I usually wear a small in knitted garments so I cast-on for that size and didn't realize until I was halfway through that the smallest size listed in the pattern was for a little girl. Oh well, it happens.

Me: I also read (in the Knit and Tonic interview) that you didn't really get into knitting until your mid-twenties. Where you into other crafts before that? When did you realize that crafting was an integral part of your life?

Vickie: I grew up in a crafty household, so it's always been an integral part of my life. My mom hade me making things from the time I was old enough to use a needle and thread—she still has a doll's dress that I made when I was 7. I crocheted as a kid and did a lot of plastic canvas embroidery as well as card making, decoupage, latch hook, basic sewing, etc.



Me: You have a new book out, Not Another Teen Knitting Book (great title, by the way). Why did you decide to write a book that targets teens?

Vickie: After writing New Knits on the Block, which is filled with projects for kids, writing a teen book seemed like the natural progression. With arts programs being cut from schools and academic demands overtaking teen daily life, I want to do whatever I can to encourage exploration of their creative side. To me, knitting can be every bit as cool as playing the guitar or knowing how to snowboard.

Me: I see the words "Love. Craft. Rock." repeated on your web site (and on some of the t-shirts that you sell). What do those words mean to you?

Vickie: "Craft. Rock. Love." Is basically just meant to be a statement of empowerment. It's pretty literal, really. If you rock hard at living life to it's fullest while being creative, then you're doing ok in my book!

Me: Well, Vickie, thank you so much for your time and for this wonderful opportunity! I hope I didn't pry too much! Good luck with your new book, TV shows, and all your crafty endeavors!

Vickie: Thank you so much for being a part of this tour. Pink Power!