I'm so excited - I FINALLY got my copy of
Crafty Chica's Art de la Soul: Glittery Ideas to Liven Up Your Life
by Kathy Cano Murillo! Kathy is the author of several craft books and the founder of
www.craftychica.com
.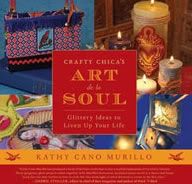 I love this book - not only for the great projects, but for the personal stories that Kathy includes. Sure, she's practically a craft celebrity now, but did you know she got a "C" in her high school crafts class?! Her stories are funny and entertaining - and I can totally relate!
My absolute favorite project in the book is the
Happy Historia Photo Charm Bracelet
. I haven't made one yet (still gathering supplies) but with a few supplies and a little practice and patience, this project is sure to impress your family and friends. I'm planning on making these as Christmas gifts this year! The
Clearly Cool Canister Set
isn't bad either! Ohhh....or how about the
Viva Villa! Coffee Coasters
?!
I am also excited about the explanation of
Dia de los Muertos
(or Day of the Dead), which I plan on celebrating for the very first time this year! I love the idea of setting up shrines to celebrate the lives of loved ones past. And those sugar skulls look pretty tempting too!
Okay, well, I think I've told you enough. I have to go read some more and uh, craft now...you're just gonna have to go get your own copy.
Oh, and by the way, my name is Amy and I am a craft-a-holic. Do they have a group for that?