If you like
Craftster.org
(and who doesn't?) then you'll LOVE Leah Kramer's new book,
The Craftster Guide to Nifty, Thrifty, and Kitschy Crafts: Fifty Fabulous Projects from the Fifties and Sixties
. Leah Kramer is also the mastermind behind Crafster.org, hence the comparison.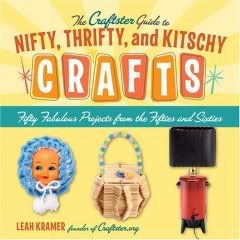 This is a terrific book for all levels of crafters, although it especially appeals to those of us who love all things kitschy and retro. Some of my favorite projects from this book are the cigar box and book clutch purses, card suit throw pillows, and the tote bag apron. The book also includes instructions for classic projects like record bowls, etched glassware, and DIY snow globes. Some of the projects are just down-right silly (but still fun), like the toothbrush bracelets, foil animals, and "merry" monsters. Near the end of the book you'll find instructions for Christmas ornaments that look oddly familiar. Perhaps I've seen the bits and leftover pieces of such ornaments in my grandmother's house. No matter, now that I have Leah's book, I can finally make my own!